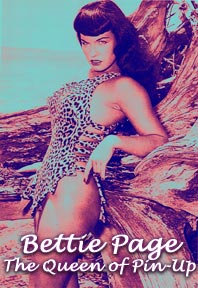 ---
"I was not trying to be shocking, or to be a pioneer. I wasn't trying to change society, or to be ahead of my time. I didn't think of myself as liberated, and I don't believe that I did anything important. I was just myself. I didn't know any other way to be, or any other way to live."


Bettie Page
---
Bettie Pagewas born on 22 April 1923, in Nashville, Tennessee. Her father, Roy, was an auto-mechanic. Her mother, Edna, was part Cherokee.
Her parents divorce in 1933, when she is 10 years old. Bettie and her two sisters are sent to an orphanage in Nashville for a year.
Attends Hume-Fog High School, makes straight A's, participates in the debate club and school plays. Edits the school newspaper and yearbook. Rarely dates.
Graduates in 1940. Recalls that she was "crushed" to have barely missed being named valedictorian by .25%, and loses the opportunity for a 4 year scholarship at Vanderbilt University.
Enrolled in the Peabody College for Teachers in Nashville on a "Daughters of the American Revolution Scholarship." She is graduated with a B.A. degree in 1944.
Marries Billy Neal sometime in late 1941. He is immediately inducted into the Armed Forces. Bettie moves to San Franciscowith her sister.
Earns a screen test with 20th Century Fox in 1945, which does not go well. She finds work as a secretary and occasionally models for a fur company.
Works as a secretary in Haitifor six months in 1947. Upon her return to the States, obtains a divorce from her husband.
She moves to New York, works as a secretary, and continues to unsuccessfully pursue an acting career. Does open air modeling work for a lot of amateur "camera clubs" to earn extra money. At one of these sessions, in which as many as 60 photographers were present, the police made some arrests. Bettie escaped, but the photographer Weegeewas taken in.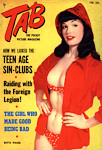 Meets Jerry Tibbs, a policeman and part-time photographer, on the beach at Coney Island in the summer of 1950. He suggests that she comb her bangs down in front to compensate for her high forehead. The Bettie Page look is born.
Begins working full-time as a pin-up model. Meets Irving Klawin 1951, who photographs her in various states of bondage. Bettie begins to attain some renown as the "Queen of Bondage." At the time, most of these photo sessions were sold on a lucrative subscription basis. The customers often made specific requests as to the scenes and layouts. Bettie is said to have found many of these quite amusing.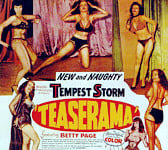 ...Appears as a performer in Strip-o-Rama, a burlesque film starring Lili St. Cyr, the famed Vegas showgirl, in 1953. Varietease(1954) and Teaserama(1955) soon follow. With Klaw producing, she makes at least 50 series of infamous 100 ft. short stag films. (Much of this work can be seen in the video Uncovered.)
Around this time, Howard Hughescontacted Klaw about meeting Bettie and bringing her under his aegis, but she declined the offer.
In 1954, she meets Bunny Yeagerin Florida. Their sessions together generate some of the most famous Bettie Page photographs. Some of these were sent to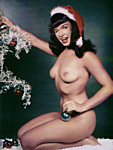 Hugh Hefner ,who made BettiePlaymate of the month for the January 1955 issue of Playboy.Amazingly, Bettie is 3 months short of 32 years of age at this point.
Irving Klaw is arrested for "conspiracy to distribute obscene material" though the US Mail in 1963. Bettie is called to testify in a private session. She is reported to have said the Klaw was absolutely innocent of any charge.
Around this time, a "pornographer" is said to have placed Bettie's head on another woman's body. Greatly disturbed by this, Bettie spends much of her savings buying up the photographs. Burned out on the modeling business, Bettie retires and leaves New York.


Marries Armond Walterson in 1958, live in Key West, Florida. The union doesn't work out. On 31 December 1959, Bettie has a religious experience and is "born again", dedicates herself to Christianity.
Over the next few years, she works for various Christian organizations, then returns to Nashville in 1963. She briefly remarries Billy Neal, perhaps to help her to gain entrance into missionary work. But this remarriage is also a failure.
Irving Klaw dies in 1966.
Bettie moves to Florida in 1967, marries Harry Lear and divorces him in 1972.
Lives in Los Angeleswith her brother as the Bettie Page cult builds through the 80's. In a 1993 interview via telephone, she told a reporter from The Lifestyles of the Rich and Famousthat she had no knowledge of any of this, telling him that she was "penniless and infamous."
Recently, she has hired a law firm to help her recoup some of the profits being made with her likeness.
...It has been estimated that over 20,000 photographs of Bettie have been taken.
---
Other Links
---
Related Literature
Bettie Page: The Life of a Pin Up Legendby Karen Essex, James L Swanson


Betty Page: Queen of Pin-Up, 1993


Betty Page Postcard Bookpublished by Taschen Books (currently unavailable)


Betty Page Confidentialby Bunny Yeager


Bettie Page: Queen of Heartsby Jim Silke, 1995


Bunny's Honeys: Bunny Yeager, Queen of Pin-Up Photography, Taschen, 1994


The Pin-up: A Modest Historyby Mark Gabor, 1996


Real Bettie Page: The Truth About the Queen of the Pinupsby Richard Foster


Va Va Voom! Bombshells, Pin-ups, Sexpots and Glamour Girlsby Steve Sullivan, 1995


The Rocketeer: Dave Stevens. The Rocketeer graphic novel, the girlfriend is the spitting image of Bettie Page
---
Author: Bonesy Jones