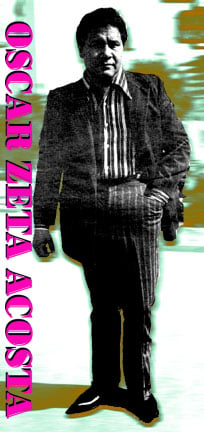 ---
Oscar Zeta Acosta
---
Oscar Zeta Acosta (April 8, 1935-) was a writer, lawyer, and political activist. He was born in El Paso, Texas and was raised in California's San Joaquin Valley, near Modesto. Because Acosta's father was drafted during World War II, Oscar held much responsibility in helping to take care of the family. As an attorney his activities began in Oakland but it was in East Los Angeles where he gained notoriety, prior to his mysterious disappearance in Mexico in the Spring of 1974.

Acosta is most well known as the author of two of the most important novels of the Chicano Protest Movement, Autobiography of a Brown Buffalo(1972), and The Revolt of the Cockroach People (1973). Both novels are highly acclaimed as major contributions to the Chicano literary renaissance. They are semiautobiographical and relate to Acosta's search for self-identity in the midst of an Anglo society at a time of great social unrest within the Chicano community.

Immediately following high school, at the age of seventeen, Acosta enlisted in the Air Force and was honorably discharged after four years of service. During a tour of service in Latin America, Acosta converted to Protestantism and became a Baptist missionary in a leper colony in Panama, although later, in Autobiography of a Brown Buffalo, he rejected Christianity. Following his discharge, Acosta worked his way through Modesto Junior College, and attended San Francisco State University where he took up creative writing. After his graduation he attended San Francisco Law School at night and passed the State Bar exam in 1966. Acosta was married twice--his first wife was Betty Daves during the years 1956-1963. His second marriage was to Socorro Aguiniga from 1969-1971. As a lawyer, he first worked for the East Oakland Legal Aid Society, an antipoverty agency. Later, he moved to East Los Angeles, where he joined the Chicano Movement and generated controversy as an activist attorney during the years 1968-1973, time periods marked by social unrest and the tragic Vietnam War. Acosta defended various Chicano protest groups and activists such as the Saint Basil 21 and Rodolfo "Corky" Gonzalez. As an attorney, Acosta figured prominently in legal cases which addressed political, social, and educational injustices against Chicanos. He frequently clashed with the judicial system, winning ardent supporters as well as making political enemies. He garnered respectable grass-roots support when he ran for Los Angeles County Sheriff, winning well over one hundred thousand votes.

Acosta was last heard from in May, 1974, with a telephone call from Mazatlan, Sinaloa, to his son Marco. The journalist and author Hunter S. Thompson, who was Acosta's close friend and confidante, speculated on Acosta's untimely disappearance as either a political assassination or murder at the hands of drug dealers. Acosta is presumed dead.
In Hunter S. Thompson's works, most notably, Fear and Loathing In Las Vegas, a fictionalized version of Acosta appears as "The Samoan".
---
Autobiography of a Brown Buffalo
This was Acosta's first novel and it focuses on his own self-discovery in a fictionalized manner. An autobiography, the plot presents an alienated lawyer of Mexican descent, who works in an Oakland antipoverty agency, without any sense of purpose or identity. This character survives on drugs, alcohol, and counseling sessions until he transforms into a Chicano activist. At the end of the work, the protagonist adds the middle name of 'Zeta,' a symbol which represents his Chicano and Mexican culture and roots. By traveling to his birthplace, the lost character discovers himself and learns lessons on the road as he reflects on his life.
The Revolt of the Cockroach People
This novel details the insurrection to the powerful institutions of religion, the courts, and schools. During the insurrections, demonstrations are held while buildings are bombed and people die. The protagonist, Buffalo Zeta Brown, represents the rioters who were indicted unjustly but attracted media to make Latinos aware of their social condition. Eventually, the pressures from the court, the community, and his life become too overwhelming, and Buffalo Zeta Brown loses his mind.
---
Bibliography
---
The Autobiography of a Brown Buffalo


Revolt of the Cockroach People


Oscar 'Zeta' Acosta : The Uncollected Works
---
Related Titles
---