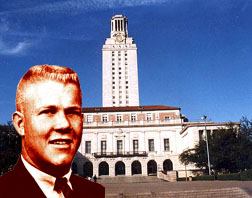 ---
Biographical Notes
Charles Whitmanwas born on 24 June 1941 in Lake Worth, Florida.
Is taught to handle guns at an early age. A photograph taken of Charlie at age 2 shows him holding two rifles: a bolt action and a pump.
Life relatively uneventful and typically All American in its tedious attempts to find authenticity in a spiritually bankrupt society. This is exemplified by the biographical litany of Eagle Scout, high GPA's, Marines, storybook marriage, etc., etc..
Suffers from severe headaches and the facade begins to crack...
Sunday
July 31, 1966
6:45 p.m.

I don't quite understand what it is that compels me to type this letter. Perhaps it is to leave some vague reason for the actions I have recently performed. I don't really understand myself these days. I am supposed to be an average reasonable and intelligent young man. However, lately (I can't recall when it started) I have been a victim of many unusual and irrational thoughts. These thoughts constantly recur and it requires a tremendous mental effort to concentrate on useful and progressive tasks. In March when my parents made a physical break I noticed a great deal of stress. I consulted a Dr. Cochrum at the University Health Center and asked him to recommend someone that I could consult with about some psychiatric disorders I felt I had. I talked with a Doctor once for about two hours and tried to convey to him my fears that I felt come overwhelming violent impulses. After one session I never saw the Doctor again, and since then I have been fighting my mental turmoil alone, and seemingly to no avail. After my death I wish that an autopsy would be performed on me to see if there is any visible physical disorder. I have had some tremendous headaches in the past and have consumed two large bottles of Excedrin in the past three months.

It was after much thought that I decided to kill my wife, Kathy, tonight after I pick her up from work at the telephone company. I love her dearly, and she has been as fine a wife to me as any man could ever hope to have. I cannot rationally pinpoint any specific reason for doing this. I don't know whether it is selfishness, or if I don't want her to have to face the embarrassment my actions would surely cause her. At this time, though, the prominent reason in my mind is that I truly do not consider this world worth living in, and am prepared to die, and I do not want to leave her to suffer alone in it. I intend to kill her as painlessly as possible.

Similar reasons provoked me to take my mother's life also. I don't think the poor woman has ever enjoyed life as she is entitled to. She was a simple young woman who married a very possessive and dominating man. All my life as a boy until I ran away from home to join the Marine Corps

[Whitman stopped typing at this point, apparently interrupted by the visit of two friends, who later recalled a "very normal" conversation with Charlie. The note resumes in his handwriting.]

friends
interrupted
8-1-66
Mon.
3:00 A.M.
Both Dead

I was a witness to her being beaten at least one a month. Then when she took enough my father wanted to fight to keep her below her usual standard of living.

I imagine it appears that I bruttaly [sic] kill [sic] both of my loved ones. I was only trying to do a quick thorough job.

If my life insurance policy is valid, please see that all theworthless checks I wrote this weekend are made good. Please pay off mydebts. I am 25 years old and have been financially independent.

Donate the rest anonymously to a mental health foundation. Mayberesearch can prevent further tragedies of this type.

Charles J. Whitman

- From the note left by Whitman next to his wife's body
Just after 12:00 a.m. on 1 August 1966, Whitman killed his mother,most likely by strangling her from behind with a rubber hose. He laterbashed in the back of her head and hit her left hand so hard that thediamond from her engagement ring popped out. He left a note on thebody.
A few minutes before 3:00 a.m., Whitman killed his wife, Kathy, as sheslept by stabbing her five times in the chest with a hunting knife.
After writing a few more notes, Whitman placed the following items in a green footlocker:
Channel Master 14 Transistor AM/FM Radio

Robinson Reminder Note Book (blank)

white 3 1/2 gallon water jug (full)

red 3 1/2 gallon plastic gas jug (full)

sales slip from Davis Hardware dated 1 August 1966

four "C" cell flashlight batteries

several lengths of cotton and nylon ropes

plastic Wonda-scope compass

papermate black ball-point pen

one Gun Tector, green rifle scabbard

hatchet

Nesco machete with green scabbard

Hercules hammer

green ammunition box with gun cleaning equipment

Gene brand alarm clock

cigarette lighter

canteen with water

binoculars

green Sears rifle scabbard

Camallus hunting knife with brown scabbard and whet stone

large Randall knife with bone handle with the name Charles J. Whitman on the blade with brown scabbard and whet stone

large pocket knife with lock blade

10-inch pipe wrench

eye glasses with brown case

box of kitchen matches

12 assorted cans of food and a jar of honey

two cans of Sego

can of charcoal starter

white and green 6-volt flashlight

set of ear plugs

two rolls of white adhesive tape

solid steel bar (1 ft. long)

Army green rubber duffel bag

green extension cord

lengths of clothes line wire and yellow electric wire

grey gloves

deer bag

bread, sweet rolls, Spam, Planters Peanuts, sandwiches, a box of raisins

plastic bottle of Mennen spray deodorant

toilet paper

[Note that there is a disturbing absence of Excedrin.]
In addition, Charlie packed/bought a .357 Magnum Smith & Wesson revolver, a Galesi-Brescia pistol, a .35 Remington, an sawed-off Sears 12-gauge shotgun, a 6mm Remington bolt-action rifle with a 4-power Leupold scope, and a .30 caliber M-1 Carbine. He also had over 700 rounds of ammunition.
On 1 August 1966, around 11:30 a.m., he entered the University of Texas Tower. Once in the elevator, he asked for help from an attendant, who informed him how to turn it on. "Thank you, ma'am," Whitman said. "You don't know how happy that makes me."
Once on the 28th floor, he killed the receptionist by hitting her in the back of the head with the butt of his rifle. A couple coming down from the observation deck were mysteriously allowed to pass by Whitman unharmed.
Two other couples were shot at point blank range with the sawed-off shotgun as they climbed up the stairwell.
Whitman then went out onto the observation deck. The time was 11:48. It has often been pointed out that if he hadn't been delayed by the receptionist, he would have started shooting during peak period of classes changing. The death toll would have been substantially higher. As it was, Whitman lasted for 96 minutes. He killed 16 people, wounded 30.
Houston McCoy, with the help of other officers, gained entrance to the observation deck and shot Whitman twice in the head with 12 gauge loaded with 00 buckshot. As Whitman's body jerked in death spasms, Officer Ramiro Martinez took the shotgun and fired at Whitman's upper arm, nearly blowing it off. The time was 1:24 p.m...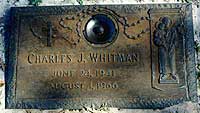 Charles Whitman's grave.
Hillcrest Memorial Park,
Cloud Lake (Palm Beach County), Florida
---
Other Links
---
Directly Related Texts
The Die Song: A Journey into the Mind of a Mass Murdererby Donald T. Lunde and Jefferson Morgan. W. W. Norton & Co, 1980. Out of Print

Flash Point: The American Mass Murdererby Michael D. Kelleher. Praeger Publishing. 1997

A Sniper in the Tower: The Charles Whitman Murdersby Gary M. Lavergne
---
Indirectly Related Texts
The World's Sniping Rifles : With Sighting Systems and Ammunition (Greenhill Military Manuals)Ian V. Hogg


The Ultimate Sniper : An Advanced Training Manual for Military and Police SnipersMajor John L. Plaster


U.S. Marine Corps Scout/Sniper Training ManualUSMC Development Education Command Staff


A to Z Encyclopedia of Serial Killersby Harold Schechter and David Everitt, Pocket Books


Answer Me Vol 1-3by Jim Goad, AK Press


Cold-Blooded: The Saga of Charles Schmid, The Notorious "Pied Piper of Tucson"by John Gilmore, Feral House


Confessions of Henry Lee Lucas: The True Story of America's Most Notorious Serial Killerby Mike Cox, Pocket Books


Confessions of Son of Sam: David Berkowitzby David Abrahamsen, Columbia University Press


Death Scenes: A Homicide Detective's Scrapbookedited by Sean Tejaratchi, Feral House


Deranged: Albert Fishby Harold Schechter, Pocket Books

Destined For Murder: Profiles of Six Serial Killers With Astrological Commentaryby Sandra Harrison Young, Edna Rowland, Llewellyn Publications


Deviant: The Shocking True Story of the Original 'Psycho' Edward Geinby Harold Schechter, Pocket Books


Eccentric and Bizarre Behaviorsby Louis R Franzini and John M Grossberg, John Wiley & Sons


Ed Gein: Psychoby Paul Anthony Woods, St Martin's Press

Evidenceby Luc Sante, Noonday


Family: The Manson Group and Its Aftermath(rev ed) by Ed Sanders, Nemesis


Halfway Heaven: Diary Of A Harvard Murderby Melanie Thernstrom, Doubleday


Killer Clown: The John Wayne Gacy Murdersby Terry Sullivan, Pinnacle

Killer Fiction: Stories That Convicted the Ex-Cop of Murderby G J Schaefer, Sondra London (ed), Colin Wilson(intro), Feral House


Killers Among Us Book I: Motives Behind Their Madnessby Colin Wilsonand Damon Wilson, Warner Books


Lustmord: The Writings and Artifacts of Murderersby Brian King (ed), Bloat Books


Making of a Serial Killer: The Real Story of the Gainesville Murders In the Killer's Own Wordsby Danny Rolling, Sondra London, Colin Wilson(intro), Feral House


Mammoth Book Of Killer Womenby Richard Jones, Carroll & Graf


Monsters of Weimar: The Stories of Fritz Haarman & Peter Kurtenby Theodor Lessing, Karl Berg, George Godwin, Nemesis


Police Pictures: The Photograph As Evidenceby Sandra S Phillips, Chronicle Books


Prisonersby Arne Svenson, Blast Books


Sexual Homicide: Patterns and Motivesby Robert K Ressler, Ann W Burgess, John E Douglas, Free Press


Stranger Beside Me: Ted Bundy the Shocking Storyby Ann Rule,Signet


Texas Death Rowby Ken Light, University Press of Mississippi


Whoever Fights Monsters: My Twenty Years Tracking Serial Killers For the FBIby Robert K Ressler, Tom Shachtman, St Martin's Press


Written In Blood Book II: The Trial and The Huntby Colin Wilson, Warner Books


Zodiacby Donald Graysmith, Berkeley
---
Author: Bonesy Jones