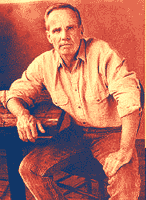 Charles Joseph McCarthy, Jr .was born in Providence, Rhode Island in 1933. (He changed his name to Cormac, meaning son of Charles, later in life.)
His family moves to Knoxville, Tennessee in 1937 where his father works on the legal staff of the Tennessee Valley Authority.
Cormac attends the Catholic High School, enters the University of Tennessee in 1951.
He enlists in the US Air Force in 1953, serves for four years, two of them stationed in Alaska.
Returns to the University in 1957, publishes two stories in the student literary magazine, The Phoenix. He wins the Ingram-Merill Award for creative writing in 1959 and 1960. Marries Lee Holleman, has a son.
McCarthy leaves the University without graduating, moves to Chicago, works as an auto mechanic while working on his first novel.
Returns to Tennessee, divorces wife. He receives a traveling fellowship from the American Academy of Arts and Letters, takes an ocean liner to Ireland in 1965.
The Orchard Keeper is published in May of 1965, wins the Faulkner Award.
Receives a Rockefeller Foundation Grant in 1966, tours Europe, settles for a while on Ibiza, an island, works on second novel. Marries Anne DeLisle.
Returns to US in 1967, lives near Knoxville at a small pig farm.
Outer Dark is published in 1968.
Awarded a Guggenheim Fellowship in 1969, moves to a barn near Louisville, Tennessee. He renovates the entire barn himself.
Child Of God is published in 1973, a novel based upon actual events.
Separates from second wife in 1976, moves to El Paso.
Suttree is published in 1979, a work that he had been laboring over for the last twenty years.
He is awarded a MacArthur Fellowship in 1981.
Blood Meridian, Or, the Evening Redness in the West is published in 1985, based on historical occurrences around the Texas-Mexico border in the 1840's.
All The Pretty Horses is published in 1992, the first volume of The Border Trilogy. It wins the National Book Award.
The Crossing is published in 1994, the second volume of The Border Trilogy.
The third volume of The Border Trilogy, Cities of the Plain is published in 1998.
These notes are indebted to the fine scholarship of Edwin Arnold and Diane Luce in their excellent study, Perspectives on Cormac McCarthy
---
QUOTE
---
"They came like a caravan of carnival folk up through the swales of broomstraw and across the hill in the morning sun, the truck rocking and pitching in the ruts and the musicians on chairs in the truckbed teetering and tuning their instruments, the fat man with the guitar grinning and gesturing to others in a car behind and bending to give a note to the fiddler who turned a fiddlepeg and listened with a wrinkled face." - The sublime first sentence of Child of God
---
Major Works
---
The Orchard Keeper1965, 1993

Outer Dark1968, 1993

Child Of God1974, 1993

Suttree1979, 1993

Blood Meridian, Or, the Evening Redness in the West1985, 1992

All The Pretty Horses1992

The Crossing(Border Trilogy, Vol 2) 1994

The Stonemason: A Play In Five Acts1995

The Gardener's Son : A Screenplay1996

Cities of the Plain : A Novel1998

The Border Trilogy(all three volumes under one cover)
---
Critical Works
---
The Achievement of Cormac McCarthyby Vereen M Bell

Cormac McCarthy (Twayne's United States Authors Series, No 679)by Robert L Jarrett

Perspectives on Cormac McCarthy(Edwin T Arnold, Dianne C Luce, Editors)

Sacred Violence : A Reader's Companion to Cormac McCarthy(Wade Hall, Rick Wallach, Editors)
---
Filmography
---
---
Other Links
---
Author: Bonesy Jones