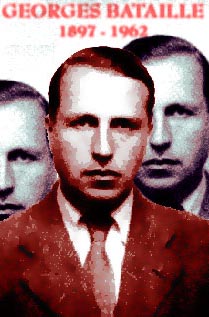 Georges Bataille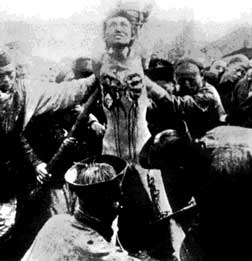 Slow Death by Leng-Tch'e (cutting into pieces):
There is true ecstasy in this expression.
---
Biographical Notes
Georges Bataillewas born on 10 September 1897in Billon, Puy-de-Dome, in central France. His father suffered from general paralysis, brought on by syphilis. He was, according to Bataille [1] , already blind when Georges was conceived. His mother was also of dubious sanity.
Family moves to Rheims in 1900. Bataille converts to Catholicism around the time of his baccaulaureate, just before the outbreak of the Warin 1914.
He and his mother evacuate the city, which was under the German advance, abandoning his father, who was too far gone to be easily transported.
His father dies raving, ranting and refusing to see a priest, on 6 November 1915. These events have a powerful effect on Bataille.

But the weirdest thing was certainly the way he looked while pissing. Since he could not see anything, his pupils very frequently pointed up into space, shifting under the lids, and this happened particularly when he pissed. Furthermore, he had huge, ever gaping eyes that flanked an eagle nose, and those huge eyes went almost entirely blank when he pissed, with a completely stupefying expression of abandon and aberration in a world that he alone could see and that aroused his vaguely sardonic and absent laugh.... In any case, the image of those white eyesfrom that time was directly linked, for me, to the image of eggs.... [1]
Bataille claims that from 1914 "until 1920, rarely did I let a week go by without confessing my sins." [1] In 1917, he joins the seminary of Saint-Fleur with intentions of becoming a monk.
Experiences a loss of faith in 1920 because "his Catholicism caused a woman he loved to shed tears." [2]
Attends the Ecole des Chartres, submits a thesis on "The Order Chivalry, told in verse from the thirteenth century" in 1922.
Obtains a fellowship to attend the School of Advanced Hispanic Studies in Madrid, travels extensively through Spain, witnesses the gruesome death of a bullfighter, Manuelo Granero.
Secures a position at the Bibliotheque Nationale in Paristowards the end of 1922.
From 1923 to 1928 he becomes marginally involved in the Parisian Surrealistcircles; undergoes a successful psychoanalysis which allows him to write; marries the actress Sylvia Makles and has a child. (Sylvia later goes on to marry Jacques Lacan.)
Assists with the publication of the journal Documentsin 1930, gathers around him many of those who had formerly been involved with the Paris Dada, Grand Jeu and Surrealist Groups. Incurs the wrath of Andre Breton, who believes that Bataille is forming a counter-Surrealist movement.
Alastair Brotchie claims that Bataille is one of the main instigators in the anti-Breton group, responsible for the attack in the journal A Corpsewhich showed a deathlike Breton crowned with thorns. [3]
Marriage breaks up, he enters into an intense relationship with Colette Peignot, whose later death in 1938 devastates Bataille.

Bataille circa 1933
In 1935, he and Breton bury their differences to fight against the rising tide of Fascism. Along with Roger Callois, they establish an anti-Fascist group called, Contre-Attaque, "which had for its aim the re-establishment of revolutionary principles betrayed by the Communistand Socialist Parties." [2]
Forms the esoteric group Acephaleand its theoretical counterpoint, The College of Sociologyin 1936. Among the members of the College, which holds periodic lectures, are Caillois, Michel Lerisand Pierre Klossowski. Speakers are the premier intellectuals in France at the time: Jean-Paul Sartre, Walter Benjamin, Theodor Adornoand Claude Levi-Straussto name only a few. [4]
Founds the influential journal Critiquein 1946. Publishes the early work of Roland Barthes, Maurice Blanchot, Jacques Derridaand Michel Foucault.
Recuperates from recurrent tuberculosis, marries a second time, has another child and suffers through a series of financial difficulties. In 1949, he obtains employment as a librarian in Charpentras in Provence. He holds a similar position in Orleans in 1951.
In 1961, through an auction of paintings held by such friends as Pablo Picasso, Max Ernst, Henri Michauxand Joan Miróhe is able to purchase an apartment in Paris and have a measure of financial security.
Georges Bataille died on 8 July 1962in Paris.
Much of the above comes from the excellent source: Georges Batailleby Michael Richardson. [2]
---
A Sweet Passage From

The Story of the Eye
The events that followed were without transition or connection, not because they weren't actually related, but because my attention was so absent as to remain absolutely dissociated. In just a few seconds: first, Simone bit into one of the raw balls, to my dismay; then Granero advanced towards the bull, waving his scarlet cloth; finally, almost at once, Simone, with blood-red face and a suffocating lewdness, uncovered her long white thighs up to her moist vulva, into which she slowly and surely fitted the second pale globule- Granero was thrown back by the bull and wedged against the balustrade; the horns struck the balustrade three times at full speed; at the third blow, one horn plunged into the right eye and through the head. A shriek of unmeasured horror coincided with a brief orgasm for Simone, who was lifted up from the stone seat only to be flung back with a bleeding nose, under a blinding sun; men instantly rushed over to haul away Granero's body, the right eye dangling from the head.
---
Subcultural Relevance
Obviously, Bataille has extreme relevance as a nexus point for the intellectual and artistic life of mid-20th century France. Much of his "achievement" can only be understood inside this historical context. In this way, the simplest method of locating Bataille is to place him dead square in the middle of a continuum between Fascismand Surrealism. And, humorously enough, perhaps this crude position is the only way to make sense of his writing, especially his "transgressive fictions." But while this might be helpful to closet SadeanCatholics and the all too common crypto-fascist French neurotics, it doesn't begin to explain Bataille's increasing valence within the last few decades of this country.
It is Bataille's philosophy of excess and exuberance, his open acknowledgement of shame in the face of the extreme pornographic displays of sex and death, his sense of esoteric humor and history that make him so appropriate to this world we live in. Look around at all the weak-kneed "erotic philosophers" and judge who backs down from the abyssmal truth of the matter. The same goes for the vulturous "death therapists." Here is Bataille's relevance inside the subculture: with one foot in the flesh of the orgy and one in the bones of the grave, he speaks of the dark truths central to all human experience. And, most importantly, he embraces it, says YES to it, even though it would annihilate him. And beyond of all of his failings, this still stands. The corpse of Bataille never smelled sweeter.

---
Other Links (An Significant Paucity)
A User's Guide to Trendy French Intellectuals

by

R.U. Sirius

CTHEORY

A Site For All Things Critical, Edited by Arthur and Marilouise

Kroker

After the Orgy: The Bataillean Millenium

A Curious Application

Experience et langage dans la pensee de Georges Bataille

Something in French

http://www.laboucherie.com/texte/bataille.htm

: Something else in French

The Return of "The Invisible Hand": George Bataille on Postmodern Capitalism

by Omid Nodoushan

A Footnote Filled with Francobabble Critspeak Comparing Bataille and Baudrillard

Ha ha ha ah ha! It's Good!
---
Major Works
The Absence of Myth: Writings on Surrealism edited by Georges Bataille, (Michael Richardson, trans.), Verso, 1994

The Accursed Share Vol I: An Essay on General Economy: Consumption

, (Robert Hurley, trans.), Zone Books, 1991

The Accursed Share Vols II and III: An Essay on General Economy: The History of Eroticism (vol II); Sovereignty (vol III)

, (Robert Hurley, trans.), Zone Books, 1993

The Bataille Reader

(Fred Botting and Scott Wilson, eds.), Blackwell, 1997

Blue of Noon

, Marion Boyars Publishers, 1988

[3]

Encyclopaedia Acephalica: Comprising the Critical Dictionary and Related Texts

, (Bataille and Isabelle Waldberg, eds.), Atlas Press, 1996

Erotic Art: From the 17th to the 20th Century: The Dopp Collection

, (Peter Weiermair ed.), DAP, 1995

Erotism: Death And Sensuality

, (Mary Dalwood, trans.), City Lights, 1991 (originally published in english as Death and Sensuality: A Study of Eroticism and the Taboo, 1962. Original publication as L'Erotisme, 1957.)

Guilty

, Lapis Press, 1988 (Out of Print)

The Impossible: A Story of Rats Followed by Dianus and by the Oresteia

, (Robert Hurley, trans.), City Lights, 1991. (Original publication as L'Impossible, 1962)

Inner Experience

(Suny Series: Intersections: Philosophy and Critical Theory), SUNY Press, 1988 -

We receive these hazy illusions like a narcotic necessary to bear life. But what happens to us when, disintoxicated, we learn what we are? Lost among babblers in a night in which we can only hate the appearance of light which comes from babbling. The self-acknowledged suffering of the disintoxicated is the subject of this book.


- Georges Bataille, from the Preface

L'Abbe C

, Marion Boyars Publishers, 1994

Literature and Evil

, Marion Boyars Publishers, 1990

Manet

, (Austryn Wainhouse and James Emmons, trans.), Rizzoli Pubs, 1983 (Out of Print)

My Mother Madame Edwarda & The Dead Man

, (Austryn Wainhouse, trans.), Marion Boyars Publishers, 1995

On Nietzsche

, Paragon House, 1994

Poemas

, Lectorum Pubs, 1980 (Out of Print)

Prehistoric Painting: Lascaux or the Birth of Art

, (Austryn Wainhouse, trans,), Macmillan, 1955

[1]

The Story of the Eye

, (Joachim Neugroschel, trans.), City Lights, 1997

The Tears of Eros

, (Peter Connor, trans.), City Lights, 1989. (Original publication as Les Larmes d'Eros, 1961.)

Theory of Religion

, (Robert Hurley, trans.), Zone Books

Trial of Gilles de Rais

, Amok, 1991 (Out of Print)

Visions of Excess: Selected Writings, 1927-1939

, Univ of Minnesota, 1985

Writings on Laughter, Sacrifice, Nietzsche, Un-Knowing

, (Annette Michelson, trans.), October No. 36, Spring 1986
---
Secondary Texts
Georges Bataille and the Mysticism of Sin

: Peter Tracey Connor

Georges Bataille (Twayne's World Authors Series, No. 872)

Robert Champagne (11/99)

Against Architecture: The Writings of Georges Bataille

by Denis Hollier, (Betsy Wing, trans.), Zone Books, 1992

Bataille

by Fred Botting, Blackwell, 1998

Bataille: Writing the Sacred

Carolyn Bailey Gill (ed.), Routledge, 1995

Bataille's Eye & ICI Field Notes 4

by Deborah Cullen, 1997 (out of print)

Beyond the Gift: Reading Georges Bataille

by Michele Richman, Johns Hopkins, 1982 (out of print)

[4]

The College of Sociology (1937-1939)

Dennis Hollier (ed), (Betsy Wing, trans.), Univ. of Minnesota Press, 1988 (out of print)

Eroticism in Georges Bataille and Henry Miller

by Gilles Mayne, Summa Pubs, 1993

Fifty Key Contemporary Thinkers: From Structuralism to Postmodernity

by John Lechte, Routledge,

[2] Georges Batailleby Michael Richardson, Routledge, 1994

Heterology and the Postmodern: Bataille, Baudrillard and Lyotard

by Julian Pefanis, Duke, 1991

On Bataille: Critical Essays

, by Leslie Anne Boldt-Irons (ed.), (Suny Series: Intersections: Philosophy and Critical Theory), SUNY Press, 1995

Passion and Excess: Blanchot, Bataille and Literary Theory

by Steven Shaviro, Florida State Univ Press, 1990

Proximity: Levinas, Blanchot, Bataille and Communication

by Joseph Libertson, Martinus Nijhoff, 1982

Reading Georges Bataille: Beyond the Gift

by Michele H Richman, Johns Hopkins Univ Press, 1982 (out of print)

Reconfigurations: Critical Theory and General Economy

by Arkady Plotnitsky, Univ Press of Florida, 1993
The Taste for Annihilation: Georges Bataille and Violent Nihilism : An Essay in Atheistic Religionby Nick Land, Routledge, 1992 (OOP)

Violent Silence: fCelebrating Georges Bataille

, Georges Bataille Event (OOP)

Yale French Studies, No. 78: On Bataille

1990




Björk

Venus As A Boy [Maxi Single] [CD-SINGLE]

Volumen

(video compilation, DVD format) Includes the "

Venus As A Boy

" video.

In 1993, Icelandic singer Björk Guðmundsdóttir cites The Story of the Eyeas a major inspiration: she made a music video that alludes to Bataille's erotic uses of eggs. Here are some more picturesof her in her video, Venus as a Boy .
---
Author: Bonesy Jones


The eyes of Georges Bataille