"Imperious, choleric, irascible, extreme in everything, with a dissolute imagination the like of which has never been seen, atheistic to the point of fanaticism, there you have me in a nutshell.... Kill me again or take me as I am, for I shall not change."
The Marquis de Sade, Last Will and Testament
---
The Marquis de Sade, or Comte Donatien Alphonse Francois de Sade was born on June 2, 1740 in Paris, France.
Unfortunately, little remains of the Marquis de Sade's early life. It is said that he was raised with Louis-Joseph de Bourbon, the crown prince. Allegedly the arrogance of the prince was so great that the Marquis de Sade had to be taken away from the court for defending himself with "acts of anger and brutality."
From there, he stayed at the chateau of Saumane and the abbey of Ebrueil. He served in the army during the Seven Years War. At 23, like most young aristocrats, liked the theater and the arts. He kept a mistress named La Beauvoisin and frequented the brothels. He married, in conformance to the wishes of his parents, a rich young aristocrat, named Renee-Pelagie de Montreuil.
Married in May of 1763, he was arrested that October for "excesses" committed in a brothel which he had been frequenting for over a month. These excesses were enough to make the young Marquis send letters to the governor of the prison begging him to keep the reasons for his incarceration secret, so that his reputation would not be "hopelessly ruined".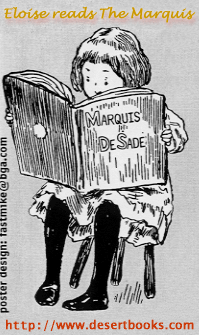 However, his jail sentence did not seem to dampen his tastes. A year later, it has been documented that the Paris police's Inspector Marais warned the procuresses to stop giving their girls to the Marquis de Sade.
The scandal of 1763 was difficult to live down. At first he begged to see his wife, accusing himself of having grievously offended her. Then he begged to confess and open his heart to a priest. But the Marquis de Sade was now a pariah, and found it difficult to live in Parisian society.
Soon after his release, the frustrated Marquis retreated to his chateau of La Coste, accompanied for a while by his mistress La Beauvoisin. There his mistress appeared in public playing the role of 'Madame Sade', going as far as to entertain the Provençal nobility, all the while, the Marquis de Sade's mother in attendance.
On an Easter Sunday, 1768, the Marquis de Sade invited a beggar named Rose Keller into his house at Arcueil. Beaten, terrorized, and obviously inadequately guarded, she escaped to notify the authorities. She claimed that she had been whipped with a cat-o'-nine tails and a knotted cord, slashed with a knife, and finally had molten wax poured into the wounds. The Marquis de Sade paid for his indiscretion with two (short) prison sentences.
He spent the next three years in exile, mostly at his estate in Provence. During this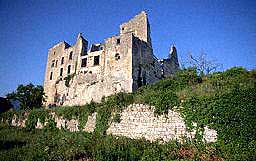 time he seemed to have reined his passions, playing "Lord of the Manor", and fathered two children with his wife. He also produced several plays in his theater, including one of his own.
In 1771, the Marquis de Sade was imprisoned once again, this time for debt. Upon his release, he was back to his old ways. He started off by seducing his sister-in-law, who was both a canoness (a member of a religious community, but not bound by vows) and a virgin... not to mention his wife's sister. Too much to resist, he ran off with her to Marseilles, accompanied by Latour, his loyal valet.
In Marseilles, it was reported that he took out of his pocket what older biographies refer to as a "paper cat", (evidently a type of masturbation device made of parchment) and which also happened to be stuck with bent pins, and requested switches made from heather branches. For those of you not botanically inclined, it might help to add that heather is a rather dense, tough shrub with small thorns. Also while there he was sodomized by Latour, who was apparently accustomed to this sort of duty.
In 1772, while in Italy with his sister-in-law, both he and his valet were sentenced to death in absentia. The canoness took refuge in a French convent, where she stayed for the remainder of her life, and the Marquis de Sade hid in Savoy. He was caught and imprisoned in the chateau of Miolans, but quickly escaped, thanks to the assistance of his wife.
Returning to chateau La Coste, the Marquis de Sade, with the cooperation of his wife, the Marquise, hired several handsome valets, an illiterate but attractive secretary, a beautiful cook and several young girls from bawdy houses to serve as 'maids'. However, this was not the idyllic fortress as depicted in The 120 Days of Sodom. The maids ran away, the cook became pregnant, the secretary was sent for by his parents. In the end, only the Marquise remained, ever faithful to her husband and his ever growing need for uncommon pleasures.
On February 13th, 1777 the Marquis de Sade was arrested at the contrivance of his wife's mother, Madame de Montreuil, who had not forgiven him for seducing his sister-in-law, the canoness. The Marquis de Sade was locked up at the chateau of Vincennes, and later was sent to Aix to be tried and fined, but on the return to Paris, he escaped while under guard and hid at La Coste once again.
The Marquis de Sade immediately began an affair with the housekeeper, Mademoiselle Rousset, but this diversion was short lived, as he found himself under arrest once again by the 7th of September 1778.
This time he spent eleven years in prison, first at Vincennes, and later at the Bastille. It was during this incarceration that he truly began to write the works that would make him famous. Through his writing, he continued living the decadent lifestyle denied to him within his prison's walls. In this period he produced such works as Dialogue between a Priest and a Dying Man, The 120 Days of Sodom, The Misfortunes of Virtue, Aline and Valcour, as well as over 35 plays and numerous short stories.
On Good Friday, July 14th, 1789 the prisoners of the Bastille were freed by the revolutionary mob in the act that the French still celebrate as Bastille Day. The Marquis de Sade emerged to a changed France.
His wife, however, asked for separation, and his sons and daughter nearly adults, were strangers to him. The Marquis de Sade, freed from the Bastille, was now also free of the constraints of family life.
The Paris that he was rediscovering was in the heat of a revolution, with enormous changes sweeping through all levels of French society. France no longer had time for "petty" morality crimes, and he was no longer viewed as a criminal. His play Oxtiern was performed with great success. He even became politically active, and was voted as the President of the Piques section in Paris.
However, with the revolution came things that the Marquis de Sade could not justify. He advocated, hypocritically, the instigation of total socialism and the complete abolition of property, yet insisted on keeping his personal castle and properties. With the onset of the Reign of Terror (1793 - 1794) and the thousands of executions that ensued, the Marquis de Sade withdrew in horror. He was not a man that enjoyed the sight of an anonymous death from afar. Though he had used torture, blood letting and even murder to excite his own passions, he could not justify the state sanctified mass executions that occurred.
As part of his political duties, he served as Grand Juror at many trials, including the case against Madame de Montreuil (his mother-in-law) and family. The Marquis de Sade, however refused to harm those who had caused him to be imprisoned for so long a time. In fact he almost always dismissed the charges against anyone set before him.
Eventually he resigned his post, and as a result, in December of 1793, he was imprisoned for "moderatism", as strange as that seems. After serving a 375 day sentence, he wrote:
"My government imprisonment, with the guillotine before my eyes, did me more harm than all the Bastilles imaginable."

"The excesses of the Terror have dulled the taste for crime." -- Saint Just

"In order to derive pleasure from the humiliation of and exaltation of the flesh one must ascribe value to the flesh." -- Simone de Beauvoir
The Marquis de Sade no longer had the drive he once had. He was forced to sell La Coste unprofitably, and quickly ran through the money it brought him. He was forced to stay with a farmer, and later began earning 40 sous per day as an actor in Versailles. In December, 1799 he played the part of Fabrice in his play Oxtiern. In early 1800 he was hospitalized, "dying of cold and hunger," and threatened once again with debtor's prison. On April 5th, 1801 he was imprisoned in Sainte-Pelagie, and later moved to Charenton, an insane asylum, where he lived for the remainder of his life. A Madame Quesnet, who, by pretending to be his daughter, obtained a room near his and remained at his side for the rest of his life.
Once again in the relative security of prison, the Marquis de Sade once again began writing. It was from here that he was able to publish Philosophy In the Bedroom. Thinking that his work 120 Days of Sodom had been lost (the carefully hidden 45 foot scroll had actually survived, but was not rediscovered until 1904 stuffed inside of a tube of a bed frame) during the storming of the Bastille, he began working on a modified and more fully developed version of Justine, followed by Juliette. These two works appeared in a ten volume edition in 1797, published anonymously, which the Marquis denied authorship of.
While at Sainte-Pelagie he began working on an immense ten-volume work called Les Journees de Florbelle, unfortunately this work did not survive, the manuscript was burned after the Marquis de Sade's death at the instigation of one of his own sons.
By the time of his death, on December 2nd, 1814, the Marquis de Sade had given up fighting the inevitable. Though unchanged in spirit, he dutifully performed whatever was required of him, including writing a divertissement on the occasion of the 1812 visit of the Archbishop of Paris to Charenton, and distributing the holy bread on Easter Sunday, and other such acts to demonstrate his reform.
The Marquis de Sade's personal journals and memoirs have been lost, and his letters were cautious. About his own writings he said:
"I have imagined everything conceivable in this sort of thing, but I have certainly not done, and certainly never will, all that I have imagined."
To this day, the word 'sadism' is synonymous with cruelty. The acts depicted in his works: the beatings, bloodshed, torture and murder are all connected to his name.
To some it may appear that the Marquis de Sade was a lone freak, an incredibly disturbed man who wrote the foulest sort of extreme erotica. On the other hand, one does not need to do much research to see that at the end of the eighteenth century, in Europe particularly, and in France, especially, it was a time of social upheaval and decadence in the most extreme of forms. It was a time of discovery and invention, with an upper class leeching off of the peasant population. The upper class motto in France during this time was "plaisir a tout prix ": pleasure at any price.
The King of France, Louis XV (1710 - 1774), was famous for his extraordinary number of mistresses, going so far as to have built his own private bordellos in his Deer Park. It was later calculated that each girl cost the treasury over one million livres. If only 2 came each week (a low estimate), this amounted to nearly 1000 over the course of ten years, making the total cost to the public during this period over one billion livres. This does not even account for the enormous expenses such as the care of the extraordinary number of illegitimate children fathered in the course of performing the act.
The King even had a specific minister, the Intendant de Menus-Plaisirs (the Minister of Dainty Pleasures) whose sole duty it was to organize the King's orgies at the bordellos in the Deer Park. It is said that these events made any Roman Saturnalia, even those under the auspices of such decadents as Nero and Caligula, pale by comparison.
This is brought up to explain several things. The King was the social trendsetter of his country. What he did, the nobility followed suit. After the nobility, the merchant class did what they could to imitate their 'betters', and so forth. The end of the 18th century in France, was a time of extreme libertinage-- a society fascinated, or better yet, obsessed with sex. There are reports of the bookstalls being positively awash with erotic literature. The art during this period was equally fascinated with the human body, and sensuality. Fashion and dress had also gone to extreme form, and the scene that the Marquis de Sade describes in Juliette, in which it is recommended that Juliette show herself half naked in the streets to the public if she wanted to remove the last vestiges of her modesty, is far from fictional. During Year V of the Revolution, two women paraded up and down the Champs-Elysees, completely nude except for a thin gauze.
Not even the clergy were exempt from the debauchery of the period. Contemporary Parisian police records show numerous (hundreds) arrests for all varieties of monks, curates and other religious workers caught in acts of indecency. An average example of these sorts of crimes is illustrated through the signed confession of one Honoré Regnard from 1765.
During the reign of Louis XV, prostitution had attained enormous popularity and widespread toleration in Paris. Many of the "Houses" came under direct police protection. However, there were laws on the books governing these activities, and there were instances of arrested prostitutes being sent to the colony of New Orleans. Even so, it was estimated that there were 20,000 prostitutes in Paris, in a population of 600,000 (3.3%).
Prostitution entered its 'golden age' at the onset of the French Revolution in 1789. During this time, it is estimated that the number of prostitutes increased to 30,000. By 1791, all rules and regulations regarding prostitution were done away with, it being recognized as a business which everyone was privileged to practice and held that any restrictions thereupon would be an affront to personal liberty.
The menu of delights available in the Parisian bordellos, as described by the Marquis de Sade, seem quite extreme. However, there is little doubt, consulting other contemporary sources that these sorts activities were indeed available and quite commonly offered throughout Paris. The Marquis had his own petit maison in Saint-Roch in 1772.

The Marquis de Sade died December 2, 1814, in Charenton.
His remaining manuscripts were all burned by his eldest son. Years later, his grave was excavated in order to take phrenological measurements of his skull.
His masterwork, the The 120 Days of Sodom, was found in 1904 and published. He later was claimed by the surrealist movement as being ahead of his time. Guillarme de Apollinaire declared that the writings of the Marquis de Sade would dominate the twentieth century.

---
MARQUIS DE SADE BIBLIOGRAPHY
---
---
OTHER SOURCES FOR THE MARQUIS DE SADE
---
---
OFFSITE LINKS FOR THE MARQUIS DE SADE
---
---
Author: Patrick Deese