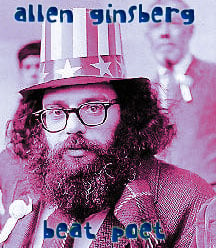 Biographical Notes
Irwin Allen Ginsbergwas born on 3 June 1926 in Newark, New Jersey.His father Louis was a school teacher and poet, known for his word play. "Is life worth living? It depends on the liver" and "I've got no axiom to grind" were two remembered examples. His mother was a radical communistwho idolized Stalin. Throughout her life she was in and out of mental institutions. He later stated that his "mother made up bedtime stories that all went something like: "The good king rode forth from his castle, saw the suffering workers and healed them."
At age 15, writes letter to New York Timesabout political issues such as WWIIand the plight of the workers. About those he saw as guilty parties he writes: "One can gather infinite consolation by speculation as to what will happen to those Congressmen when they go to Hell."
Prays to save the Working Class of America if he is admitted to Columbia University.He is, and attends, with the assistance of a stipend from the Y.M.H.A., intending to study pre-Law.
In December of 1943, meets Lucien Carrat Columbia University. Carr introduces him to David Kammerer, William S. Burroughsand Jack Kerouac.A literary movementbegins to slouch towards its beatificbirth.
Gives up the study of Law to pursue that of Literature, excels as a student with teachers such as Mark Van Doren and Lionel Trilling.Profoundly influenced by the visionary poetics of William Blake,the American exuberance of Walt Whitman,and the modern sensibilities of William Carlos Williams.Edits the humor magazine, The Jester, is on the debate team, and helps run the literary society.
Ginsberg is suspended from Columbia in the Spring of 1945 for allowing a distraught Kerouac to sleep in his room, and for writing "Butler has no Balls" (for the president of Columbia, Nicholas Butler) on his window. Ginsberg the "A" student becomes disillusioned with the academic establishment.
That July, Ginsberg begins training to become a merchant seaman. However, on the 6th and 9th of August 1945, the US drop the bombson Hiroshimaand Nagasaki, effectively ending the war and foreverchanging human history. The merchant seaman training center is closed.
Ginsberg begins experimenting with drugs, primarily Benzedrineand marijuana,hanging out in Times Square with Burroughs and Kerouac, attempting to realize the lived poetry of a "New Vision".
Early in 1947, meets Neal Cassady,begins intense intellectual and, somewhat unreciprocated, physicalrelationship with him. They travel to Texasto visit Burroughsand Herbert Huncke.
In the summer of 1948, Ginsberg has a profound vision while readingBlake, claims to have found God. He makes the bizarre attempt to "go straight," enters into psychoanalysis, dates a woman, finds a job as a marketing researcher.
Ginsberg is arrested in April of 1949 while riding in a car stolenby some of Huncke's friends. Allen pleads insanity, ends up going tothe Columbia Psychiatric Institute for eight months. It is there that he meets Carl Soloman,to whom he later dedicates Howl.
Is graduated from Columbia in 1949 with a BA.
August 1951, drives with Lucien Carrto Mexico City to visit the Burroughs'. Impressed with the richness of the culture, his perspective on the US shifts.
Moves to San Francisco, takes an apartment in North Beach, meets Kenneth Rexroth,who impresses Ginsberg with his balance of social activism and poetry. He is also introduced to Robert Duncanwho encourages Ginsberg to break away from the influence of Williams,supports his enthusiasm with Kerouac's "spontaneous poetics".
He resumes his attempts at normalcy, working for another market research firm. In December of 1954 he meets Peter Orlovsky,they become lovers, forming a lifelong relationship. Ginsberg shakes off the chains of social conformity, quits job as market researcher, moves in with Orlovsky.
In the summer of 1955, Ginsberg begins what will eventually become "Howl:" "I saw the best mind angel-headed hipster damned."
On the 13th of October 1955, at the Six Gallery, Ginsberg delivers a mythic reading of "Howl". Kerouac MCs, punctuates reading with slaps on a jug of wine and shouts of "GO!"
Obscenity charges leveled against "Howl", further assuring its successand significance. Lawrence Ferlinghettipublishes Howl and Other Poemsin 1956.
Ginsberg's mother dies in 1956. Two days before she died, he received a letter from her that said: "The key is in the window, the key is in the sunlight in the window - I have the key - get married Allen don't take drugs... Love, your mother."
Ginsberg and Orlovsky go to visit Burroughs in Tangiers in 1957, assist in helping Burroughs to organize The Naked Lunch.
In December of 1960, Ginsberg meets Timothy Leary,who initiates him into the Harvard Psilocybin Projectwith nine psilocybin pills. Tries to call Kerouac as God, wants to go out in the street, stark, hysterical and naked to preach peace and love.
He is everywhere in the 60's, preaching the psychedelic gospel; traveling to Indiaand Japan;getting kicked out of Cubaand Prague;standing in alley in film of Bob Dylan's1965 'Subterranean Homesick Blues'; taking a part in the Acid Testswith Ken Kesey;leading the crowd in chanting OMat the Be-in in San Franciscoin 1967 with Gary Snyderand Michael McClure;Protesting the war at the Chicago Democratic Convention in 1968;testifying at the trial of the Chicago Seven;building an impressive FBI file.
In reference to a discussion of Ginsberg's FBI file, Herbert Mitgang writes:
In a memorandum from J. Edgar Hooverto the Secret Service in 1965, Ginsberg was cited as an "Internal Security--Cuba" case, and a potential threat to the president of the United States. On the document, stamped 'Secret', Ginsberg was listed as "potentially dangerous" and a "subversive," with "evidence of emotional instability (including unstable residence and employment record) or irrational or suicidal behavior," as having made "expressions of strong or violent anti U.S. sentiment," and as having "a propensity for violence and antipathy toward good order and government." All such items were checked on a form in his file.
Meets Chogyam Trungpa Rinpochein 1970, whom he accepts as his guru. With Anne Waldmanhelps to found the Jack Kerouac School of Disembodied Poetics, at Trungpa's Naropa Institute in Boulder, Colorado.
The Fall of Americawins the National Book Award in 1972.
Tours with Bob DylanIn the Rolling Thunder Revue in 1977.
Tours and reads tirelessly through the 80's, ever deepening his commitment to Buddhism, keeping the Beat flame alive.
In 1993, he is awarded the medal of Chevalier de l'ordre des Arts et Lettresby the French Minister of Culture
Dies of liver cancer on April 5th, 1997 in the East Village, New York City. Ginsberg reportedly composed a handful of short poems the day before his death, including one titled "On Fame and Death." In this poem, which ran in the New Yorkerthe week following his demise, he imagines the big crowds at his funeral and hopes that one of them would testify: "He gave great head."
---
Other Links
---
Major Works
Poetry
Howl and Other Poems, 1956

Siesta in Xbalba and Return to the States, 1956

Kaddish and Other Poems, 1958-1960, 1961

Empty Mirror: Early Poems, 1961

A Strange New Cottage in Berkeley, 1963

Reality Sandwiches: 1953-1960, 1963

The Change, 1963

Kral Majales (King of May), 1965

Wichita Vortex Sutra, 1966

TV Baby Poems, 1967

Airplane Dreams: Compositions From Journals, 1968

Scrap Leaves, Hasty Scribbles, 1968

Wales - A Visitation, July 29, 1967, 1968

The Heart is a Clock, 1968

Message II, 1968

Planet News, 1968

For the Soul of the Planet is Wakening..., 1970

The Moments Return: A Poem, 1970

New Year Blues, 1972

Open Head, 1972

Bixby Canyon Ocean Path Word Breeze, 1972

Iron Horse, 1972

The Fall of America: Poems of These States, 1965-1971, 1973

The Gates of Wrath: Rhymed Poems 1948-1952, 1973

Sad Dust Glories: Poems during Work Summer in Woods, 1974

First Blues: Rags, Ballads and Harmonium Songs, 1971-1974, 1975

Mind Breaths: Poems, 1972-1977, 1978

Poems All Over the Place: Mostly Seventies, 1978

Mostly Sitting Haiku, 1978

Careless Love: Two Rhymes, 1978

Plutonian Ode and Other Poems, 1977-1980, 1982

Many Loves, 1984

Collected Poems, 1947-1980, 1984

Old Love Story, 1986

White Shroud: Poems, 1980-1985, 1986

Cosmopolitan Greetings: Poems, 1986-1992, 1994
Prose
Notes after an Evening with William Carlos Williams, 1970

Declaration of Independence for Dr. Timothy Leary, 1971

The Fall of America Wins a Prize, 1974

The Visions of the Great Rememberer, 1974

Chicago Trial Testimony, 1975

The Dream of Tibet, 1976

Your Reason and Blake's System, 1989
Journals
Indian Journals: March 1962 - May 1963; Notebooks, Diary, Blank Pages, Writings, 1970

Journals: Early Fifties, Early Sixties(edited by Gordon Ball), 1977
Correspondence
The Yage Letters(with William Burroughs), 1963

To Eberhart from Ginsberg: A Letter about Howl, 1976

As Ever: The Collected Correspondence of Allen Ginsberg and Neal Cassady, 1977

Straight Hearts' Delight: Love Poems and Selected Letters with Peter Orlovsky(edited by Winston Leyland), 1980
Photography
Scenes Along the Road(with Ann Charters),1970

Allen Ginsberg, Fotografier, 1947-87, 1987

Allen Ginsberg Photographs, 1990

Snapshot Poetics, 1993.
Biography
Ginsberg: A Biographyby Barry Miles, 1989

Dharma Lion: A Biography of Allen Ginsbergby Michael, Schumacher, 1992
Video
---
Author: Bonesy Jones