William S Burroughs
---
Biographical Notes
William Seward Burroughs IIwas born
5 February 1914, in St. Louis, Missouri, into a world of relative wealth and comfortfrom the profits of the Burroughs Adding Machine Corporation. His grandfather, after whom he was named, was the inventor of the addingmachine.
[ there's more biography below this image...]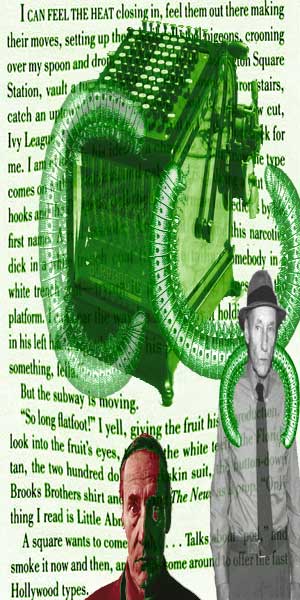 tribute to william s. burroughs
collage by patrick deese
At 8 years of age, uses his first gun, writes first story, "The Autobiography of a Wolf." Refuses editorial advice of parents tochange autobiography to biography.
When Burroughs is 13, he discovers the autobiography of
Jack Black, You Can't Win, and becomes enamored of the outlaw, undergroundlifestyle. Black introduces him to the idea of the being a member of the Johnson Family.
First published in the John Burroughs Reviewin 1929. A short essay entitled "Personal Magnetism". He considers it an early attemptat debunking control systems.
Sent to Los Alamos Boys School in New Mexico. Later claims the only thing he learned there was a hatred of horses.
He is graduated from Harvardin 1936.
In New York, 1939, cuts off left little finger. Shows it to his analystat the time, who takes him to Bellevue. Burroughs tells a psychiatrist there that he did as part of "an initiation ceremony into the Crow Indian tribe".
In the Summer of 1942, moves to Chicago, takes job with A. J. Cohen, Exterminators. "I go into an apartment and I know where alltheroaches are," he later claims.
Moves to New Yorkthe next year. Befriends Allen Ginsberg, Jack Kerouac, Lucien Carrand David Kammerer around this time.
On 13 August 1944, Lucien Carr kills David Kammerer in self defense. Kerouac and Burroughs are arrested as material witnesses because theydid not initially report the murder. Later, they collaborate on a novelbased on the events, And the Hippos Were Boiled in their Tanks.It was rejected by several publishers at the time and has never been published.
Burroughs meets Joan Vollmer. Along with Ginsberg and Kerouac, they begin experimenting with drugs and extreme behaviors. Meets Herbert Hunckearound this time. Kerouac introduces Joan to Benzedrineinhalers, towhich she soon becomes addicted.
Sometime in 1946, Burroughs injects himself with a morphineSyrette. Discovers junk ecstasy, begins addiction. In the midst of junk despair,Burroughs has a vision of a cocktail waitress bringing him a skull on atray. "I don't want your fucking skull," he says. "Take it back!"
Moves in with Joan, they become lovers. Joan tells him that he "makes love like a pimp."
In April of 1946, Burroughs is arrested for obtaining narcotics through fraud.
Joan is committed to Bellevuefor acute amphetamine psychosis. Burroughs attempts to rescue her from New York. William Burroughs IIIconceived.
Convinces her to move to East Texas with him. Huncke eventually moves in with them. All three live in a small house near New Waverly, growingmarijuana and laying low. On 21 July 1947, William Burroughs III is born.
Allen Ginsbergand Neal Cassadyvisit in August of 1947.
The Burroughs' move to New Orleansin 1948. Kerouac and Cassady visit,as immortalized in
On the Road.
Burroughs is arrested in New Orleans for possession of drugs, elects not to stand trial, moves family to Mexico City in 1949.
On Thursday the6th of September, 1951, at a desultory party, Burroughssuggests that he and Joan do their William Tell act. Joan balances a highball glass on her head, turns her head to one side, saying, "I can'twatch this- you know I can't stand the sight of blood." Burroughs shootsand hits Joan in the side of the head, killing her. Later he states: "I am forced to the appalling conclusion that I would never have become a writer but for Joan's death."
Burroughs travels to Columbiain 1953 to find the entheogenicvine Yage, meets Richard Evans Schultes, who councils him about the plant. Writes to Ginsberg about hisexperiences, which are later published as
The Yage Letters.
In 1954, Burroughs moves to Tangiers, Morocco. Introduced to Paul Bowles. Meets Brion Gysin, who becomes a pivotal catalyst for Burroughs. Begins initial forays intounleashing his word hoard and deeper addictions to junk.
Kerouac, Ginsberg and Peter Orlovskyvisit him in 1956. Kerouac helps Burroughs to organize the "routines" that would later become
The Naked Lunch, the title from a suggestion of Kerouac's years before.
Early in 1958, sick of Tangiers, he leaves to stay with Ginsberg in Paris. Meets
Maurice Girodiasof Olympia Press, who decides to publish
The Naked Lunchin 1959.
Moves to Londonin 1960. Back in Tangiers in August of 1961, withGinsberg and others, meets Timothy Learywho gives them all mushrooms. Burroughs doesn't enjoy the experience,saying: "Urgent warning. I think I'll stay here in shriveling envelopesof larval flesh... One of the nastiest cases ever produced by this department."
Writes prolifically and lives nomadically throughout 60's, returns to New York in 1974. He has not lived in the US for 24 years. Meets James Grauerholz, who becomes Burroughs' life manager, helping him to organize and publishhis writings.
Burroughs' son, Billy, dies in a ditch after a hard and lonely life on 3 March 1981.
Burroughs moves to Lawrence, Kansaswith Grauerholz.
In May of 1982, Burroughs is inducted into the American Academy and Institute of Arts and Letters.
Died on 2 August 1997of a heart attack in Lawrence, Kansas. He was 83 years old.
---
Quotes
"Horses are a dying artifact."

"Every man has inside himself a parasitic being who is acting not at all to his advantage."

"The Pusher always gets it all back."

"Language is a virus."

"This is a game planet."

"In Timbuktu I once saw an Arab boy who could play a flute with his ass, and the fairies told me he was really an individual in bed."

"My purpose in writing has always been to express human potentials and purposes relevant to the Space Age."
---
Obituary Run Though the Cut-Up Machine Mixed with
Naked Lunch
The writer died Saturday at the age of 83. Yes, of course, Carl, the doctor brayed heartily. In white museum room full of sunlight pink nudes ie and I blasted my last talk of the writer William S. Burroughs, Fuzz Lover, five police boys, has turn them offering my say, Naked after pink heart Burroughs of brayed names, F.L.-- an at a Fuzz suffering East police in has odds a Lawrence offering novel one has of Beat generation Beat the S. heartily white room of Friday nudes and blasted writer last S. to be- the for author every known the once attack throwing Lunch and on age whiff experiences of a Marvie addict, out Saturday might He the hour and 83. His experiences as a drug addict, Burroughs died barely covered over with skin at Lawrence Memorial Hospital a day after suffering. His eyes went out. He fell off and we 20,000 I.R.S. ks and others so close you can hear age Disposal Unit snapping and dying trying to Burroughs, his eyes went out. He fell off Yage, generation Beat barely covered over with skin. After suffering with one finger talking a ritual tea smoker and very puritanical about rivers down on the table. The writer died Saturday at the age of 83.
---
Other Links
Yahoo! News on Bill's move to the Western Lands

Excellent Burroughs Site with Many Documents

Great Site on Burroughs

Good Biographical Information

BBC Online's Voices archive with featurette on W.S. Burroughsand 3 audio snippets totalling about 10 minutes

(real player required for the audio files) .

The Ghost of William S. Burroughs: large collection of audio snippets in .WAV format.

Transcriptof the testimony from Allen Ginsbergand Norman Mailerduring the Boston obscenity trial for The Naked Lunch, June 1965.
---
Major Works
Junky(as William Lee), 1953, 1977

The Naked Lunch, 1959, 1990

Minutes to Go(with Brion Gysin, Sinclair Beiles & Gregory Corso), 1960

Exterminator(with Brion Gysin), 1960

The Soft Machine, 1961, 1992

The Ticket That Exploded, 1962, 1987

Dead Fingers Talk, 1963

The Yage Letters, 1963, 1975

The Nova Express, 1964, 1992

Valentine's Day Reading, 1965

Roosevelt After Inauguration, 1965

Time, 1965

APO-33, 1965

So Who Owns Death TV?(with Claude Pelieu & Carl Weissner), 1967

The Dead Star, 1969

The Last Words of Dutch Schultz, 1969, 1975

The Wild Boys, 1971, 1992

The Electronic Revolution(bilingual edition: German/English), 1971, 1996

Brion Gysin Let the Mice In(text by Burroughs), 1973

Exterminator!, 1973, 1979

White Subway, 1973

Mayfair Academy Series More or Less, 1973

Port of Saints, 1973, 1980

The Book of Breathing, 1974

The Job, 1974

Sidetripping(text to photographs by Charles Gatewood), 1975

Snack, 1975

Cobble Stone Gardens, 1976

The Retreat Diaries, 1976

The Third Mind(with Brion Gysin), 1978

Letters to Allen Ginsberg, 1976, 1982

Ali's Smile/ Naked Scientology(bilingual edition: German/English), 1978, 1995

Blade Runner, A Movie, 1979

Dr. Benway, 1979

Ah Pook Is Here, 1979

Streets of Chance, 1981

Early Routines, 1981

Cities of the Red Night, 1981

Sinki's Sauna, 1982

A William Burroughs Reader, 1982

RE/Search 4/5: William S Burroughs, Bryon Gysin & Throbbing Gristle, 1982

The Place of Dead Roads, 1983

Ruski, 1984

The Four Horsemen of the Apocalypse(bilingual edition: German/English), 1984, 1996

The Burroughs File, 1984

The Adding Machine, 1985

Queer, 1985

The Cat Inside(with Brion Gysin), 1986, 1992

The Western Lands, 1987

The Whole Tamale

Apocalypse(with Keith Haring), 1988

Interzone, 1989, 1990

Tornado Alley, 1989

Letters of William S Burroughs, 1990

Ghost of a Chance, 1991, 1995

Seven Deadly Sins, 1992

Ports of Entry: William S Burroughs & the Arts, 1996

My Education: A Book Of Dreams, 1996

Concrete & Buckshot: William S. Burroughs 1987 - 1996- Timothy Leary (intro), Benjamin Weissman (ed.)

Word Virus: The William S. Burroughs Reader- James Grauerholz, Ira Silverberg (eds.) [1/99]

Last Words: The Final Journals of William S. Burroughs- James Grauerholz (ed.) [Feb. 2000]

Burroughs: Letters[2/2000]

The Collected Interviews William S. Burroughs[September 2000]

Conversations With William S. Burroughs (Literary Conversations series)- Alan Hibbard (ed.) [April 2000]
---
Audio
Uncommon Quotes: William S. Burroughs[Out of Print]

Junkyread by Burroughs. Penguin Audiobooks, 1996

Break Through In Grey Room[CD]

Call Me Burroughs[CD]

Dead City Radio[CD]

Spare Ass Annie & Other Tales[CD]

The Elvis of Letters [EP][CD] (With Gus Van Sant)

The "Priest" They Called Him [EP][CD] (With Kurt Kobain)

The Road To Western Lands[CD]

10% File Under Burroughs[CD]
---
Anthologies Including Burroughs
Drug User Documents 1840 - 1960- John Strausbaugh, Donald Blaise (eds.)

Grand Street #54 (S P A C E)- Jean Stein (ed.)

Grand Street #59 (TIME)- Jean Stein (ed.)

Starry Wisdom: A Tribute To H. P. Lovecraft
---
Works About Burroughs
The Job: Interviews With William S. Burroughs- Daniel Odier (ed.)

With William Burroughs: A Report From the Bunkerby Victor Bockris, 1981, 1996

RE/Search 4/5: William S Burroughs, Bryon Gysin & Throbbing Gristle(V. Vale & A. Juno, eds.), 1982

William S Burroughs At The Front: Critical Reception, 1959-1989(J. Skerl & R Lyndenberg, eds.), 1991

Literary Outlaw: Life & Times of William S Burroughsby Ted Morgan

William Burroughs: El Hombre Invisibleby Barry Miles, 1992

Gentleman Junkie: The Life and Legacy of William S. Burroughs- Graham Caveney [1998]

Naked Angels: Kerouac, Ginsberg, Burroughs- James Lytell

Paradise Outlaws: Remembering The Beats- James Lytell

Wising Up The Marks: The Novels of William S. Burroughs- Timothy S. Murphy

The Beat Hotel: Ginsberg, Burroughs, and Corso In Paris, 1957 - 1963- Barry Miles [June 2000]
---
Filmography
The Naked LunchDavid Cronenberg (director) [1991]

William S. Burroughs - Commissioner of SewersKlaus Maeck (director) [1986]

Destroy All Rational ThoughtA 'docucollage' of Burroughs and commentary, not the great serious work that you have been waiting for.

Chappaqua - Conrad Rooks (director) [1966] a lost classic of the 60's includes William S. Burroughs, Allen Ginsberg, soundtrack by Ravi Shankhar. Worth owning.

[DVD version]

[VHS version]

Cameos

KerouacJohn Antonelli (director) [VHS] (1987)

Drugstore CowboyGus Van Sant (director) (1989) [DVD]

My Own Private IdahoGus Van Sant (director) (1992)
Performances
---
Author: Bonesy Jones